Or make a larger donation:
Requested Donation: $10 USD
Pay with paypal, or use your debit card
Monthly Archive
This is the archive for Sunday Soul - Meva Bella Mare
Purchase the archive at Treehouse Muzique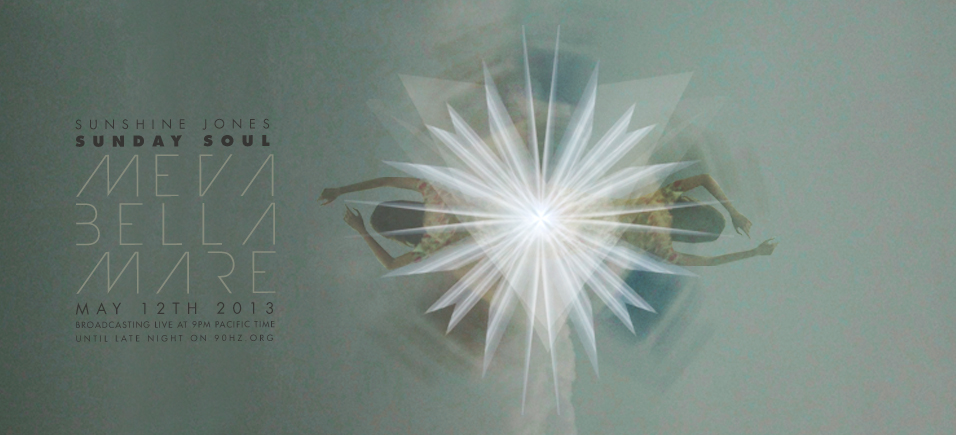 Sunday Soul – Meva Bella Mare – May 12th 2013
To Listen:
At 9pm in San Francisco, (which is Midnight in Manhattan, and a sleepy 5 am in London) you can head over to 90hz.org and click the big play button (or the new HTML5 button if you're on an iPad!)
For a little bit more of a sophisticated listening experience you can grab the 90hz IP address (http://sc2.mystreamserver.com:8084) and drop it into iTunes, or WinAmp or WMP or however you listen to inter-web audio and rock it like that.
Easy.
iPhone and iPad Users:
You can connect with your iPhone from anywhere you have cellular signal. Open Safari and type http://sc2.mystreamserver.com:8084/listen.pls – touch go – No need for an app or anything, it just works.
Community:
We get together in the chat at 90hz. We are a tight group of friends, we talk seriously, and freely. It's nice if you're up for that. It might be weird if you're not. To join in the dialog, join us at 90hz.org and come on in.
Mailing List:
Sign up for the Sunday Soul mailing list here. We never ever share our email list with a single solitary soul. You opt in, and you opt out. It's up to you completely.
Join Us!
" Do you love your mother if you hate your father? Listen carefully. When you love somebody very much, do you exclude others from that love? If you really love your mother, don't you also love your father, your aunt, your neighbour, your servant? Don't you have the feeling of love first, and then the love of someone in particular? When you say, "I love my mother very much", are you not being considerate of her? Can you then give her a lot of meaningless trouble? And if you are considerate of your mother, are you not also considerate of your brother, your sister, your neighbour? Otherwise you don't really love your mother; it is just a word, a convenience. "
— Krishnamurti
Postscript
The words meva bella mare translate from the Catalan into "My beautiful mother" and it is the etymology of each of these words which lead me to choose them for this month's transmission.
Meva comes from the Ottoman Turkish word meyve, or mive meaning fruit, literally, and opens a discussion of the product of one's work or growth being that person's fruit in essence. What's truly mine is what I have done, who I really am, and how I have grown or changed and how that is evident in my actions. The possessive idea of "mine" is often elaborated upon selfishly or otherwise, but what belongs to me shows on my face, and is in action in my heart always.
Bella is simply "beautiful" or fair. The name Isabella is a synonym for this word.
Mare is an interesting word. It is the female horse, very similar to the French word for the sea and mother, it is also the name of the broad, dark areas of the moon, as well as a German incubus or demon. Not a simple word to write off, it depends entirely on what you mean to say.
The beauty of our growth and our works is certainly a life giving ocean, it is the mother of our demons, and also that sea is the mother of our beauty. The relationship can nourish both love as well as suffering. It isn't lost on me that the denuding of the idea of motherhood on mother's day is a pretty lame thing to do, but the question arises and takes shape as a tribute, or a set of keys to unlock the shackles of blame, resentment, self pity and even cliche. My mother is indeed beautiful, and I love her. I embellished her tale, and spoke of women and mothers in general in a sweet a tone, as approving a voice, as well as with a violence of internal and external critique as possible. I wanted to travel to the sea and wade out into the waters and voice everything that came to me.
Attendance was lovely, and dialog was rich. We rose and fell like the breathing of the music itself. I know it's a lot to ask to stay up all night listening, but I always imagine you dancing, thinking, singing along, making out, and then sleeping until your apparatus goes to sleep and the connection is broken – It's either that or your attention span is just very short, or you only like it when I sing, or you don't like it when I sing, or whatever it is… I'm just glad you come, and go, and return to me.
I attempted to create a tapestry which could hold my devotion, my gratitude, my love and my rage. I wanted to sing songs of love and light, as well as throwing a rock, and offering a little tickling too. Decidedly non sexual, though sadly I guess I overlooked that vintage subject, I wanted to look into the heart of a resource and show beauty even in fault, or failure. I wanted to simply let the waters swell and then release them. My gendered pronouns get confused, and my generalizations are many, but the layers and depth I hope at least radiate my gratitude and love for you.
Here is the track listing for Sunday Soul – Meva Bella Mare:
1. Sunday Soul – Program ID
2. Bitch, Don't Kill My Vibe – Sly 5th Ave
* intro
3. Glider – Golden Sails
4. Mineral Scan – Codebase
* the fruit of my mother
5. Rehearsal Bootleg – Jamming at Archway Analog – Land of Light
6. Equinox – The Original Concept – Code 718
7. Same Old Clown – Kon Remix – Chico Mann
* I'm beginning to wonder
8. Black Mondial – Codebase
9. Moments – Constan
* Krishnamurti's question of love and mothers
10. Ordinary Things – Dean Tyler
11. Only You – Satin Jackets
12. Just Fine – Ray Sam
* heart's lullaby
13. Suspension – Golden Sails
14. Surface Love – Zack Highwire
15. Feels Real – Extended Dance Version – Shit Robot
16. My Crowd Is Invite Only – Faux Métier #05
17. Tanator – Fer Ferrari Remix – Viana
18. Mark My Words -Monkey Boots remix – Shallow Taxi Club
* her liberating internal dialog of anger as she headed west
19. Falling Bricks – LTJ X-Perience Remix – Codebase
20. A2 – Reflections – Instrumental – Faux Métier #05
21. Revenge – Steve Huerta
22. Can U – LNTG Muscle Mix – Late Nite Tuff Guy
23. Love Honey, Love Heartache – Aki Bergen & Daniel Jaze
* Sunshine's Theme
24. Ask Yourself – Helder Teixeira
25. If She Only Knew – ROBOTALCO
26. Baby – Finnebassen
27. Candy Face – Theo Tag Remix – Monsieur Minimal
* back 2 life (version)
28. Close Son of Sound Dub – Native Underground
* what is the heart of a realized, vivid and powerful woman? (and what pray tell is a mother's day without a tantrum?)
29. Its Over – Rocco Kafele
30. Do Good To Me – Steve Huerta
31. How Deep – HT's How Deep Mix – Helder Teixeira
32. Ready For You – Ray Sam feat. Lauren Morgan
33. Does She Want You Now? – Zack Highwire
34. When the shadows come to life – D-Mand Remix – Tech D
35. Barracuda – Virgin Magnetic Material Remix – Heart
36. Second Summer – RAC Remix – YACHT
37. Equinox (Henrik Schwarz – Dixon Remix) – Code 718
38. Stardust – Yoga Masters
* you are life
39. Island Memories – Discodromo
40. Somebody Love – Dana Bergquist & Peder G Remix – Rafael Cerato
41. Ballistic – Constan
42. Black Dragon – audioJazz
43. Be Careful – Kitt Bang & Enne
44. Let It Go – Deeperholic's Eastern Mix – Deeperholic
45. Horizon – Ultracity
46. In My World – Night Avenue Mix – Sonz Of Afrika
47. By Them – Zack Highwire
48. Sunday Soul – Program ID
49. Chips Down In No Landfill – Cody Chesnutt
50. Sunday Soul – Program ID
Total Running Time: 04 Hours 25 Minutes 56 Seconds
* Performed Live
Purchase the Archive:
The archive is posted for your pleasure at http://treehousemuzique.com. We ask a donation of $10 for this 4 hour and 25 minute live recording featuring 50 songs, live performance, improvisation and mixing. The transmission is captured exactly as broadcast and is offered unmolested.
Support Sunday Soul:
If you prefer to consider yourself a supported of this mission, you can contribute more than the cover charge. In so doing you will also receive the monthly archive for free in return from me personally. Below the purchase links at Sunday Soul there is a little grey button which says "contribute". There, with the click of a little button, you can change the world. Contributions go to help cover the cost of bandwidth, streaming overages, hosting, and the time and money it takes to produce this program each week.
Your support is wanted, needed, and welcome. Even the smallest of donations go a very long way. Thank you for supporting Sunday Soul.
Sunday Soul Poster Art:
Now you can choose from any Sunday Soul poster ever made and order beautifully printed versions for your home, office, studio or gallery. They are 18″ x 36″ and they are breathtaking. For more information about this visit the info page at sundaysoul.com
Mailing List:
The mailing list at 90hz doesn't seem to be working anymore. So I've started one of my own. Sign up here – https://tinyletter.com/sundaysoul – and receive the monthly news. If you were on the old list, and don't want to be, you might want to go and unsubscribe because I imported all the addresses from the old list. But, if you were on the old list, you're already on the new one and you don't have to do anything. It's done.
Thank you for listening, see you again at the end of the month!
Love,
Sunshine